I am Napoleon
Found a quiz site
Quiz Galaxy
so I've been playing around with it. I think Sandie's shown it to me before.
Anyway, according to them, I'm Napoleon!
You are Napoleon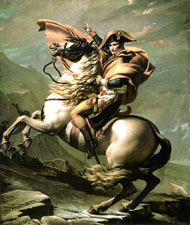 Power hungry and unpredictable. You like to always be in charge, and you don't like to listen to other peoples opinions very often. You set incredibly high goals for yourself and often achieve them.


Take this quiz at QuizGalaxy.com
Can you tell I don't have a lot going on at work today?